The Origins of 'Galentine's Day'
Ahh….Valentine's Day. The holiday you either love or loathe. 

How many of you have been preparing for this holiday, both emotionally and financially, for the past month? And how many of you *singles* out there are just waiting for the day after, when all that chocolate becomes half-off? 
Have you ever stopped to wonder, instead of all the focus on significant others and gushy relationships and cheesy poems and romantic cards - *big breath* - why can't this holiday just be about enjoying the company of your closest friends?
Well, that's where "Galentine's Day" comes in!
What is Galentine's Day, you ask?
It's just exactly what you've been searching for: an excuse to grab your greatest gal-pals (or guy-pals) and celebrate the season with a little wine and dine (and other local activities) around town!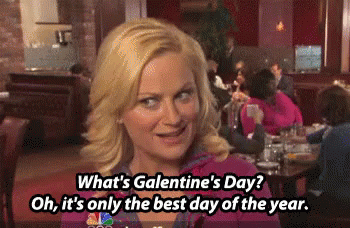 True fans of Amy Poehler will recognize the origins of this holiday from a 2010 episode of Parks and Recreation - where Poehler's character, Leslie Knope, decides to commemorate female friendship on February 13th, Valentine's Day Eve. Similar to the ever-popular "Friendsgiving" (simply a day to celebrate Thanksgiving with friends), Galentine's Day has also bloomed from a mere pop-culture reference into a full-fledged holiday for celebrating tried and true friendships.
In honor of this year's holiday, we've compiled a list of Norman Must-Do's to help you and your friends get the most out of Galentine's Day 2018!
All Month: Full Schedule & Pricing
Make Leslie Knope (Amy Poehler) proud as you celebrate the holiday with drink in hand at Pinot's Palette! What better way to enjoy the company of your best friends than with a relaxing paint by numbers session while sipping wine? Check out a full list of upcoming Galentine's (or Valentine's) themed sessions here.
STASH - "February Flower Power Market"
During 2nd Friday Art Walk & Stupid Cupid Pub Crawl, Feb. 9th, 6 p.m. - 9:30 p.m.
Attend STASH's monthly "Flower Power Market" during February's 2nd Friday Art Walk on Friday, February 9th for a block-party-style celebration! This admission-free event invites you to bring along your friends (furry friends included!) to rummage through hand-crafted and vintage items at the market and take a free "studio style photo" courtesy of local photographer Madelyn Amacher. With tons of food trucks and vendors to choose from, including Midway Deli, Holey Rollers, Crepes & Tater Cakes, and The Brewhouse, you'll want to come hungry!
The Social Club - "heART Installation"
During 2nd Friday Art Walk & Stupid Cupid Pub Crawl, Feb. 9th, 6 p.m. - 10 p.m.

While you stroll downtown at this month's 2nd Friday Art Walk, be sure to stop by The Social Club (gift shop and salon) for their "heART installation." The project is a collaboration of hand-written notes, containing the Norman community's heartfelt messages of care and love for friends and family, pinned to the wall of The Social Club in the shape of a heart. So come on in and profess your admiration for your friends, family, and good ole Norman with a hand-written note proudly displayed as part of a community art project downtown!
PostScript - "Galentine's Day Party"
Sunday, Feb. 11th , 6 p.m. - 8 p.m.
How convenient! Campus Corner's PostScript - Stationery & Gift Shop, the "other half" of Crimson and Whipped Cream Bakery, is hosting their own Galentine's Day event complete with complimentary champagne punch, games, in-store discounts, and tons of special goodies from the bakery next-door. Individual tickets are $35, or 2 for just $60. Tickets include food, fun activities and goodie bags, as well as a $5 donation to the Women's Resource Center of Norman.
All Month: Mon. - Fri. 10 a.m. - 6 p.m. & Sat. 10 a.m. - 5 p.m.
Venture over to The Main District to visit Occasions for all your gifting needs! From cards, to candles, chocolates and more, this is your go-to local spot for Galentine's Day (even Valentine's Day too) goodies and gifts. For those of you whom are looking forward to spending Valentine's Day with a certain significant other (*sigh*), Occasions also has a fantastic selection of accessories for weddings, anniversaries and other special occasions as well!
Make the most of your Galentine's Day by downloading our free VisitNorman app to discover all of Norman's eateries and upcoming events!

- Olivia Taylor, VisitNorman Digital Media